Simultaneous waterfowl count in the Greek and Turkish part of the Evros Delta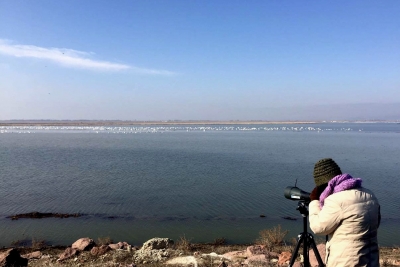 In the heart of winter, the Evros Delta is lively and dressed in white. Not because of the snow, but from the thousands of swans that deluge it every year at the same season.
Swans and generally all birds don't distinguish country frontiers, so the whole of the delta, both its Greek and Turkish side is overwhelmed with life and bird calls.
The first day of February we counted simultaneously the numbers of big waterfowl in the Greek and Turkish part of the delta.
It was not a big surprise to see that at this moment 5742 Mute Swans, 1248 Whooper Swans and 8240 Bewick' s Swans winter in the Delta!
Together with them we observed more than 3100 White – fronted Geese, 189 Dalmatian Pelicans and 1032 Flamingos!
It is an enormous satisfaction to see that this great wetland holds strongly its value for so many rare (and also common) species of birds!
Eleni Makrigianni
Evros Delta Management Body
Διαβάστηκε 3802 φορές
Δημοσιεύθηκε στην κατηγορία
Νέα
Ευρωπαϊκή Ένωση

Ευρωπαϊκό Ταμείο

Περιφερειακής Ανάπτυξη

Με τη συγχρηματοδότηση της Ελλάδας και της Ευρωπαϊκής Ένωσης