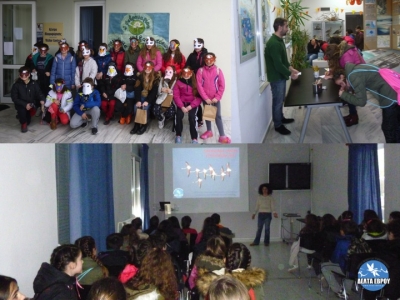 With the participation of schoolchildren of Primary Schools of Anthia and Maistros, we celebrated the World Wetlands Day, in Evros Delta Visitor Centre, on Friday February 3rd.
We discussed about the values of wetlands and especially how they protect us from extreme weather events, especially floods, topic to which today's celebration was devoted. We made handicrafts, discovered objects of the wetland and of course we admired its variety of habitats and beautiful birds during our visit to Evros Delta.
It is noted that the celebration was realized also in the context of the 20th birthday of the Evros Delta Visitor Centre and that during the whole year more events will follow with educational, scientific and festive character.
Eleni Makrigianni
Evros Delta Management Body
Τελευταία τροποποίηση στις Saturday, 04 February 2017 02:06
Διαβάστηκε 3580 φορές
Δημοσιεύθηκε στην κατηγορία
Νέα
Ευρωπαϊκή Ένωση

Ευρωπαϊκό Ταμείο

Περιφερειακής Ανάπτυξη

Με τη συγχρηματοδότηση της Ελλάδας και της Ευρωπαϊκής Ένωσης