February: Time for geese in the Evros Delta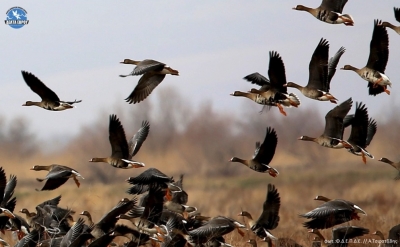 It is traditionally the best month to observe the geese!
We should not forget that first of all, the natural meadows of Evros Delta hold a unique value for geese and that every year at this period, they use it as a concentration area, just before their return to the breeding grounds.
It is very important the role of the wetland on the life cycle of geese, as they have to get stronger for the big trip to the north, so food and security are necessary during their stay in the Evros Delta.
This winter the presence of Greylag Geese was impressive. 800 birds were observed!
On February 6th, the ornithologists of the Management Body during the monitoring program, recorded 2400 White – fronted Geese, 28 Red – breasted Geese and 2 Lesser White – fronted Geese.
We are still in winter and we will most definitely have more winter surprises, but at the same time we are waiting for spring arrivals from the south.
Eleni Makrigianni
Διαβάστηκε 3982 φορές
Δημοσιεύθηκε στην κατηγορία
Νέα
Ευρωπαϊκή Ένωση

Ευρωπαϊκό Ταμείο

Περιφερειακής Ανάπτυξη

Με τη συγχρηματοδότηση της Ελλάδας και της Ευρωπαϊκής Ένωσης