Latest waterfowl countings from Evros Delta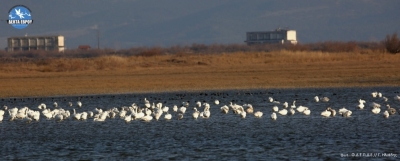 The latest waterfowl counts from the Management Body personnel were impressive as always at this time of the year. On Wednesday 15th of February, 7600 geese were recorded including White – fronted, Red – breasted and Greylag. White – fronted were the most numerous geese with 7500 birds, the highest number this winter. 650 Ruddy Shelducks were also roosting in the Evros Delta.
Swans exceed the 9250 individuals, with the Bewick's always being the dominant with 7420 birds. 840 Mute Swans and 490 Whooper Swans we also counted.
It is well known and very well established by the Management Body personnel through its many years of monitoring the wetland, that the Evros Delta is a unique place for waterfowl, with many values, including that of the last concentration place of swans and geese, before their spring return to the breeding grounds of the north.
Διαβάστηκε 4229 φορές
Δημοσιεύθηκε στην κατηγορία
Νέα
Ευρωπαϊκή Ένωση

Ευρωπαϊκό Ταμείο

Περιφερειακής Ανάπτυξη

Με τη συγχρηματοδότηση της Ελλάδας και της Ευρωπαϊκής Ένωσης