Wet meadow improvement in Evros Delta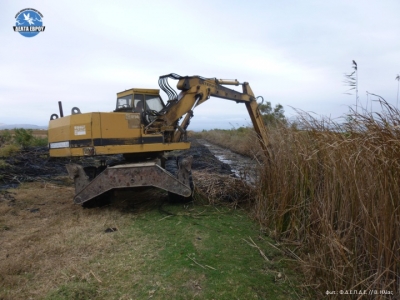 The Evros Delta Management Body, in the context of the "Wet meadows and pastures" program that is financed by Euronatur and Ciconia organizations, is implementing the "Wet meadow improvement project in Mavrakanthos, Evros Delta".
The "Wet meadows and pastures" program has as a target to support the European Stork Villages and their partners, to realize actions that are related with the improvement and restoration of stork habitats (meadows and pastures).
As Poros village was announced as European Stork Village 2016, the Evros Delta Management Body applied to the project and received a grant in order to improve the wet meadow in the area "Mavrakanthos" at the eastern part of the delta. The proposal was accepted and the project has as a main target to reduce the reed and Tamarisk expansion in the area, in order to create better foraging conditions for the White Stork.
The main actions of the project include reedbed cuttings, Tamarisk pruning, cleaning of the canals, floodings and grazing.
The project started in July 2016 and will be completed in February 2018.
Διαβάστηκε 4515 φορές
Δημοσιεύθηκε στην κατηγορία
Νέα
Ευρωπαϊκή Ένωση

Ευρωπαϊκό Ταμείο

Περιφερειακής Ανάπτυξη

Με τη συγχρηματοδότηση της Ελλάδας και της Ευρωπαϊκής Ένωσης