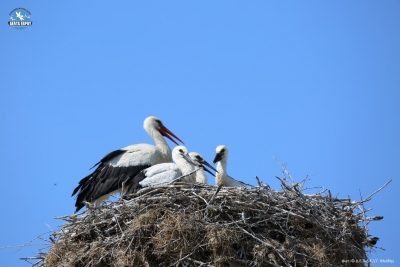 Like every year, Storks have flooded since March the area of ​​Evros, where one of the largest populations in Northern Greece is hosted.
During the annual recording of the stork breeding, the staff of the Evros Delta Management Authority, recorded a total of 47 nests with 118 chicks in the wider Delta area.
Most of the nests are located in Feres (27 nests - 64 chicks) and in the European Stork village of Poros (11 nests - 35 chicks). In the other villages (Monastiraki, Loutra, Anthia, Aristino, Doriskos, Apalos, Maistros), 9 nests with 19 chicks were observed.
Διαβάστηκε 3776 φορές
Δημοσιεύθηκε στην κατηγορία
Νέα
Ευρωπαϊκή Ένωση

Ευρωπαϊκό Ταμείο

Περιφερειακής Ανάπτυξη

Με τη συγχρηματοδότηση της Ελλάδας και της Ευρωπαϊκής Ένωσης