1997-2017: 20 years Evros Delta Visitor Center!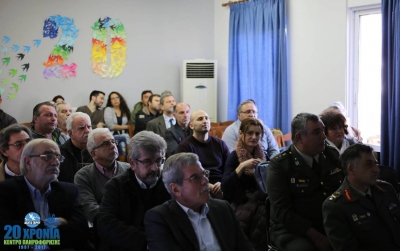 On Monday 11th of Decemberwe celebrated the 20 years operation of the Evros Delta Visitor Center (from 1997 to 2017).
Τhe event took place in the Visitor Centre and started with the greetings of the President of the Management Body, Mr Athanasiadis Andreas, who thanked all the local authorities that cooperate and supported the Management Body all these years for the protection, the management and the promotion of Evros Delta.
The coordinator of Evros Delta Management Body,Ms Makrigianni Eleni, presented all the actions that were carried out for the 20 years and Mr. Catsadorakis Giorgos, Biologist, Member of the Board of Directors – WWF representative, spoke about the context of the management in the Evros Delta and the prospects for the future.
Finally, the people that "laid the foundations" for the operation of the Visitor Center with the signing of the "Program Convention for the Protection and Promotion of the Evros Delta" in 1997, were rewarded for their offer.
Διαβάστηκε 4389 φορές
Δημοσιεύθηκε στην κατηγορία
Νέα
Ευρωπαϊκή Ένωση

Ευρωπαϊκό Ταμείο

Περιφερειακής Ανάπτυξη

Με τη συγχρηματοδότηση της Ελλάδας και της Ευρωπαϊκής Ένωσης