The journey of Denisa in Evros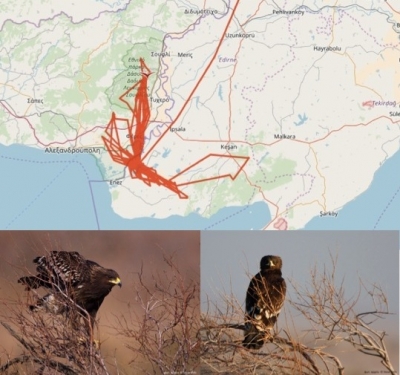 The Greater Spotted Eagle is one of the most threatened bird species in Europe. In the European Union it breeds only in Poland, Estonia and Finland and rarely in Lithuania and Latvia. Bigger populations can be seen in Belarus, Ukraine and Russia.
In order to study the movements, the geographical distribution and other parameters about the species, scientists have mounted several Greater Spotted Eagles with satellite tags. One of those is "Denisa" which was captured in Belarus in the beginning of September 2017. The bird was ringed and mounted with a transmitter, which has been sending valuable information ever since.
At the end of September the bird started its autumn migration to the south, crossing Ukraine, Moldova, Romania and Bulgaria, flying parallel to the west coastline of Black Sea and in mid-October reached Gala Golü in the Turkish part of Evros Delta. It is obvious that together with tens of other birds of the same species Denisa has chosen our area to overwinter.
It is very interesting to see the movements of Denisa in the area and also the changes in its roosting place. According to the data received from the transmitter, the bird stayed in Gala for more than a month and in the beginning of December the morning movements started, together with shifts in roosting places with a preference to the Evros River trees. The bird moves also often to Gala, Dadia Forest and the dam in Nipsa.
Denisa has already covered until now (03.02.2018) 3975 km. You can see the journey of Denisa on the following link:
http://birdmap.5dvision.ee/EN/2017/autumn/denisa?line=1&track=0&speed=1
Τελευταία τροποποίηση στις Wednesday, 07 February 2018 11:38
Διαβάστηκε 6306 φορές
Δημοσιεύθηκε στην κατηγορία
Νέα
Ευρωπαϊκή Ένωση

Ευρωπαϊκό Ταμείο

Περιφερειακής Ανάπτυξη

Με τη συγχρηματοδότηση της Ελλάδας και της Ευρωπαϊκής Ένωσης