Welcome spring and swallows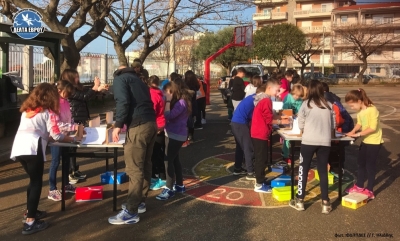 The Management Body of Protected Areas of Evros Delta and Samothrace organized for one more year a symbolic welcome to Spring and Swallows, in collaboration with the Hellenic Ornithological Society and the Head of School Activities of Evros Primary Education.
''Helidonismata'' Event, was held in the yard of the 7th Primary School of Alexandroupolis on Thursday 29th of March. In the event around 260 pupils in total participated, from the 8th Primary school of Alexandroupolis and of course the pupils of the 7th PS.
First, the schoolchildren attended a presentation about the swallows, which included useful information about their different species, their migratory journey, how they make their nest and the ways in which we can protect them.
Then, every pupil had the opportunity to build its own nest from clay, which after drying can be placed at home or in the school, helping swallows in their difficult task, the construction of the nest.
Also, the students of the First Class of the 7th Primary School, sang two beautiful songs for the spring and swallows.
We are grateful to the Schoolmaster and the teachers of the 7th Primary School as well as the Head of School Activities of Evros Primary Education, for their cooperation in the organization and implementation of the event.
Διαβάστηκε 5401 φορές
Δημοσιεύθηκε στην κατηγορία
Νέα
Ευρωπαϊκή Ένωση

Ευρωπαϊκό Ταμείο

Περιφερειακής Ανάπτυξη

Με τη συγχρηματοδότηση της Ελλάδας και της Ευρωπαϊκής Ένωσης