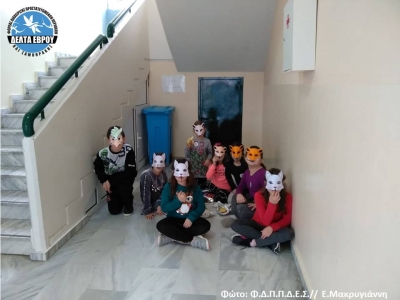 In the context of the ''World Wetlands Day'', the Management Body of the Evros Delta and Samothraki Protected Areas, visited on 11th&12th of February the 2nd and 3rd Primary Schools of Feres.
February 2nd, has been established as the "World Wetlands Day" and is celebrated every year around the world to raise awareness for the protection and wise use of wetlands. This year the celebration was devoted to climate change as "We are not powerless against climate change".
The pupils were first informed about the values of wetlands and how they host many species of plants and animals and how they protect us from extreme weather events (a result of climate change).
At the same time, they participated in educational activities (making a bird mask and badge with animals from the wetland, taking part in a contest with special gifts).
We thank all the students for the excitement and their interesting to learn about the Evros Delta and the teachers for their valuable help and support!
Διαβάστηκε 3369 φορές
Δημοσιεύθηκε στην κατηγορία
Νέα
Ευρωπαϊκή Ένωση

Ευρωπαϊκό Ταμείο

Περιφερειακής Ανάπτυξη

Με τη συγχρηματοδότηση της Ελλάδας και της Ευρωπαϊκής Ένωσης