World Wetlands Day 2020 in the Evros Delta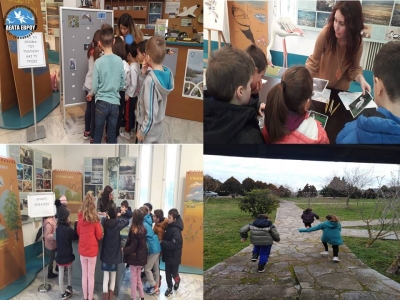 The time has come again to celebrate the "World Wetlands Day'', which is celebrated every year on the 2nd of February for raising awareness for the protection of wetlands.
The celebration was held in Evros Delta Visitor Centre, where more than 100 schoolchildren participated from the 3rd, 4th and 7th Primary schools of Alexandroupolis!
The event this year was dedicated to "Wetlands and Biodiversity" and the students watched with interest the presentation about the great biodiversity of wetlands and their rich flora and fauna and their values for nature and humans.
At the same time they participated in educational games (treasure hunting, identification of the birds of the wetland, competition) and also they visited the Evros Delta to admire the variety of habitats and the birds.
We are grateful to all the students for their enthusiasm and interest about the Evros Delta as well as the teachers for their excellent cooperation and support!
Τελευταία τροποποίηση στις Thursday, 13 February 2020 08:48
Διαβάστηκε 4709 φορές
Δημοσιεύθηκε στην κατηγορία
Νέα
Ευρωπαϊκή Ένωση

Ευρωπαϊκό Ταμείο

Περιφερειακής Ανάπτυξη

Με τη συγχρηματοδότηση της Ελλάδας και της Ευρωπαϊκής Ένωσης