Summer Observations with record numbers of waders...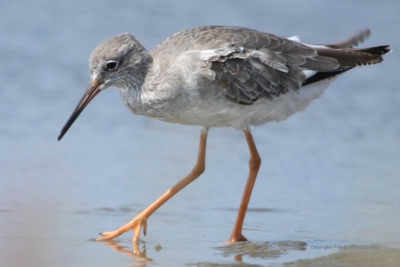 As summer is here for good and the temperature in recent days is around 30 degrees, the Delta remains the place that provides shelter and food for many species of birds.
The last recording, made ​​by the scientific personnel of Evros Delta Management Authority, was on 3rd July. The areas that are still flooded with fresh water, hosted most of the birds and so the "Tigania" area on the Eastern part of the wetland, the area of "Anthia" and the area south of "Drana" lagoon, were the major hotspots.
Among the most important observations was the 1.060 Marsh Sandpipers (the maximum number that has ever been recorded in the Delta), 337 Greenshanks (also the maximum number that has ever been recorded in the Delta) and 845 Black-winged Stilts (one of the largest numbers recorded in recent years) and many other small waders.
Moreover, 1.280 Glossy Ibises were counted - most of them in "Anthia" area.
Remarkable is also the recording of 1.000 Black-tailed Godwits and 1.350 Spotted Redshanks.
The Storks are also present in the area with about 60 white and 10 black ones.
The Black-headed Gulls were also present with about 900 ind.
Finally, several other species, in smaller or larger numbers, make the Delta a really exciting place!

Panagiotis Ioannidis
Evros Delta Management Authority
Τελευταία τροποποίηση στις Wednesday, 10 July 2013 05:45
Διαβάστηκε 19375 φορές
Δημοσιεύθηκε στην κατηγορία
Νέα
Ευρωπαϊκή Ένωση

Ευρωπαϊκό Ταμείο

Περιφερειακής Ανάπτυξη

Με τη συγχρηματοδότηση της Ελλάδας και της Ευρωπαϊκής Ένωσης