World Environment Day from the Evros Delta Management Body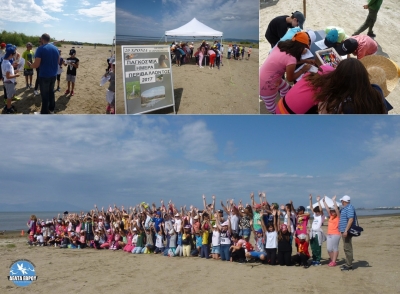 The World Environment Day is celebrated every year on June 5th. Its aim is to sensitize the public to the protection of the environment. Many organizations make events in Greece and all over the world.
For this year, the Evros Delta Management Body, celebrated the Day with the primary school of Apalos. We all gathered, today Friday the 9th of June, at the beach of the village, which is the western most boundary of the Evros Delta, to play, draw and observe nature.
The children had the opportunity to play in the sand, to color sea drawings, to observe nature and its living organisms, to collect shells and make designs with them in the sand.
In the urban environment that most of us live, we forget the beautiful feelings we are overwhelmed with when we are in nature. We remembered them today in the beautiful coast of Apalos and they will be with us every day together with the need to protect the environment.
Διαβάστηκε 3789 φορές
Δημοσιεύθηκε στην κατηγορία
Νέα
Ευρωπαϊκή Ένωση

Ευρωπαϊκό Ταμείο

Περιφερειακής Ανάπτυξη

Με τη συγχρηματοδότηση της Ελλάδας και της Ευρωπαϊκής Ένωσης