White Stork ring recovery in Soufli!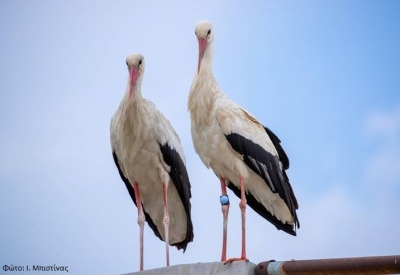 On June 3rd, a ringed Stork was observed in Soufli, sitting with another conspecific, on an electric pole. A local immediately sent the information together with photographs that show the exact ring number.
It was very pleasant news for the Management Body of Evros Delta and Samothraki Protected Areas, as the ring number revealed that the Stork was marked with an ELSA ring during the Stork Festival in the European Stork Village of Poros on June 10th, 2016!
It was even more surprising when we found out, that the ringed Stork that was observed during the monitoring of the species, from the staff of the Management body, the following day, is a bird from the same nest of the Stork that was observed in Soufli! The Stork was trying to make a nest, although June is not considered a suitable month to start breeding.
We warmly thank the inhabitant of Soufli that sent the information immediately. This fact reminds us of the importance of raising awareness of the local inhabitants in the protection of the Storks.
We also thank every citizen that help us in the protection of the Storks.
Τελευταία τροποποίηση στις Friday, 05 July 2019 12:21
Διαβάστηκε 3967 φορές
Δημοσιεύθηκε στην κατηγορία
Νέα
Ευρωπαϊκή Ένωση

Ευρωπαϊκό Ταμείο

Περιφερειακής Ανάπτυξη

Με τη συγχρηματοδότηση της Ελλάδας και της Ευρωπαϊκής Ένωσης