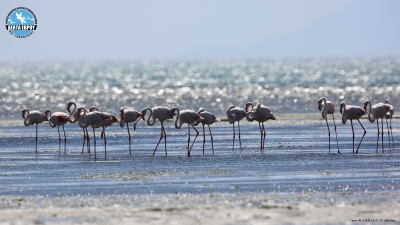 Flamingos or otherwise Phoenicopterus came again this year to beautify with their amazing pink colors the Evros Delta.
The Flamingo (Phoenicopterus roseus) is one of the most beautiful and impressive bird that everyone can see in the Evros Delta, they have nomadic behavior and are often found in large, dense flocks.
Their numbers have begun to rise as they gather in large flocks searching for food and disturbing the area with their whoops.
Surprises are always hidden among the flocks as in each flock there is often a ringed bird that either visits the Evros Delta for the first time or comes every year in order to spend the winter in our rare beautiful wetland.
Let us all enjoy these wonderful birds and wish them a safe winter.
Διαβάστηκε 277 φορές
Δημοσιεύθηκε στην κατηγορία
Νέα
Ευρωπαϊκή Ένωση

Ευρωπαϊκό Ταμείο

Περιφερειακής Ανάπτυξη

Με τη συγχρηματοδότηση της Ελλάδας και της Ευρωπαϊκής Ένωσης