Young artists in action ..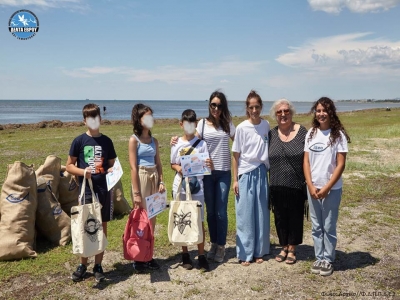 In the context of the program "Eco-Conscious Minds to Stop Pollution in the Valuable Wetlands of Black Sea Basin - BioLearn", in which the Management Body of the Evros Delta and Samothraki Protected Areas participates, a children's painting competition was organized.
The purpose was to raise awareness of our most precious fellow human beings, namely children, through creativity and expression. The 1st Experimental Primary School of Alexandroupolis, the 4th Primary School of Alexandroupolis, the 2nd Primary School of Didymoteicho, the 2nd Primary School of Feres, the Primary School of Antheia and the Primary School of Apalos participated with the wonderful works of their students.
You helped through your vote to highlight the best paintings and on Saturday, July 3, in the cleaning of the beach of Apalos (as part of a campaign of the same program) the award and the awarding of the three best works of our little friends took place. We present you the best paintings according to your preferences.
Τελευταία τροποποίηση στις Tuesday, 06 July 2021 19:50
Διαβάστηκε 4995 φορές
Δημοσιεύθηκε στην κατηγορία
Νέα
Ευρωπαϊκή Ένωση

Ευρωπαϊκό Ταμείο

Περιφερειακής Ανάπτυξη

Με τη συγχρηματοδότηση της Ελλάδας και της Ευρωπαϊκής Ένωσης