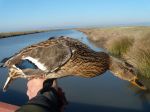 The Project with the title: «Influence of viral proteins of avian influenza virus on the innate immune response of birds», is described by the acronym INNFLU. It was a common research project by institutes from the following European countries: Germany, Belgium, France, Great Britain, Poland and Greece (Aristotle University of Thessaloniki).
H5N1 is a dangerous virus, which is considered suspicious to cause a pandemic in human populations. Since 1997, that the virus appeared, it caused many problems in poultry in many Asian countries. In 2005, the virus was observed for the first time in Europe and its quick transport followed in the whole of Europe in February 2006. The most dangerous fact about the virus is that it attacks other groups of animals, like the mammals.
Evros Delta Management Authority participated in the project during the period September 2008 – March 2012, in the collection of data from the wetland.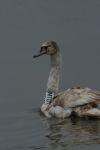 In the context of INNFLU project, two bird traps were used, which were constructed during a former project about waterfowl phaenology, in a co – operation between the Forest Research Institute (Thessaloniki) and the Royal Institute of Natural Sciences of Belgium. The traps and expertise were granted and transferred in the Management Authority by the two Institutes, while during the INNFLU Project, the two caged were conserved and an extra one was constructed. The aim of the operation of the cages was to collect samples (blood and cloacal and tracheal samples) from living birds in order to check if they were contaminated by the virus. A metal ring was placed in each bird.
At the same time, monitoring of the three Cygnus species was performed, because swans appeared to be the birds most easily contaminated by the H5N1 virus. Collars were put in Mute Swans, while in two of them satellite transmitter tags were placed.
For the period September 2008 – March 2010, 578 birds were ringed: 126 Mallards, 2 Garganeys, 1 Pintail, 35 Mute Swans, and 414 Coots. The Mute Swans bearing satellite transmitter tags were observed in Bulgaria, Romania and Georgia.
During the INNFLU project many new data were attained for the ornithofauna of Evros Delta. For the first time in Greece, satellite transmitter tags were placed in Mute Swans, while the number of ringed waterfowl exceeded those ringed so far in the whole of the country. The results of INNFLU project will be the basis for a future research on migration of waterfowl, for Greece and East Europe.